WEN
"It Takes a Village" Fight Against Coronavirus Disease (COVID-19)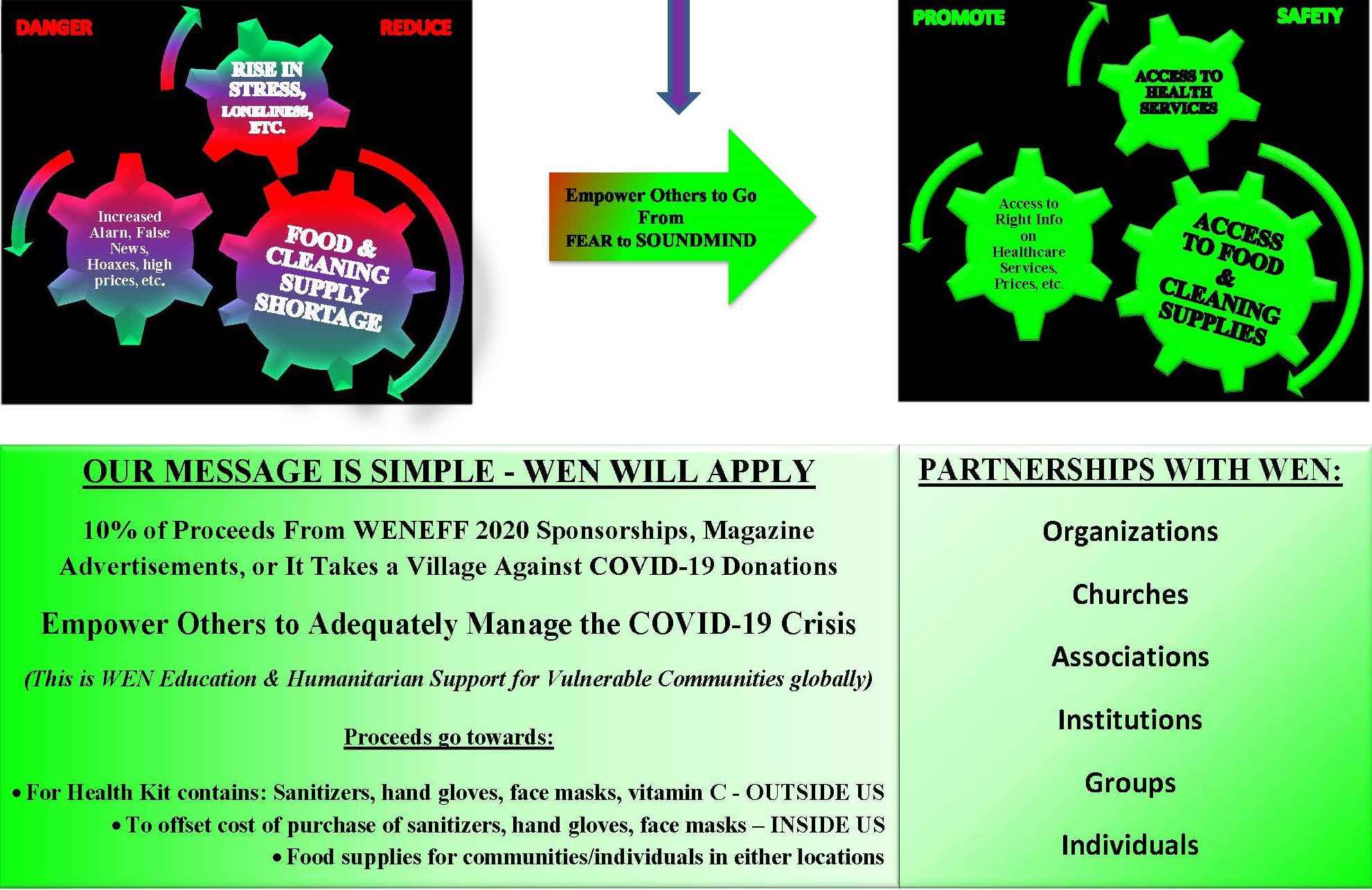 W
World Ebony Network (WEN) is pleased to share some good news during this pandemic, coronavirus disease crisis. It is the good news of how we can help one another and stop the spread of panic. WEN wants to empower people, especially the vulnerable.
WEN Royal Fathers (traditional rulers) from Anambra State, Nigeria, have bought the idea of taking proactive steps on preparing members of their communities to think preparedness, prevention, and protection during this time of pandemic crisis, coronavirus outbreak. From the United States (US), WEN is seeking to raise funds to support and ensure nursing homes, elderly communities, and families with elderly loved ones, have less difficulty caring for them.
The good news is we have a track record in humanitarian and crises management from our 2015 Ebola Crises management participation. We collected and put together care packages that included personal care items, hygienic supplies, etc. for Ebola care givers and health kits for Ebola patients.
The health kit was put together with the help of WEN organized team of partners (made up of WEN members and other organizations and led by Madam Miatta Fanbulleh's Obaas Girls Education Outreach). Ms. Zoe Wilson of Obaas Girl's Education Outreach member spent sleepless nights drafting the content of the narrative, gleaning information from the daily WEN 30 minutes situation awareness conferences held over a period of a month and a half and this narrative was carefully analyzed by the team.
The Health Kit contained a 7-day well-being supply to assist in controlling and monitoring the Ebola outbreak. This kit, which had hygienic supplies and supplements, were successfully distributed and administered in Liberia by our collaborating partner, Obaas Girls Education Outreach. We not only recommended and delivered these kits to the Ebola care givers, but we also packaged and supplied them for administration to communities (both well and sick) through their health departments.
Since a new virus crisis is upon us, we invite you to partner with us to address complacency, overreaction, and fear, and of course, help prepare, prevent, and protect the community. Given the nature of this particular virus, our strategy is simple. We will apply $12 or more (depending on received amount) of each received funds to purchase each health kit for participating communities outside the US (based on agreed upon terms) or contribute toward the purchase of supplies needed to protect the elderly in the US.
Also, we will invite our partners to join in packaging these health kits for shipping. Photo-ups will be posted to our magazine and shared with the media in the places of destination. During the 2015 Ebola crisis, the Heritage Center informed us that the Nigerian Health Ministry leadership was pleased by such generous act coming from the Diaspora that they were willing to broadcast it and one of the journalists had requested to publish it for transparency reasons. This time, we are hopeful they will extend the same opportunity.
Should you or your organization, church, etc., (see list of partner types) choose to participate, we will acknowledge receipt of your contributions to procure these packages for communities outside of the United States (US) or donate to the elderly in the US by actually marking the packages/boxes with your organization's name as contributors and credit your organization on our website. This will be done before delivery of these packages to the various destinations.
If the above request interests you, please reply with a short response to pr@worldebonynetwork and a short comment on why you choose to participate.
You may visit our site for further information at World Ebony Network | Reconcile people of African ancestry back to the African culture.
Thank you,
The World Ebony Network Team